Windows Seven explorer translates automatically filenames when you are looking at them !
(in only selected directories)
If you look with your windows explorer in the directory "Sample Pictures" in a localized version of Windows Seven, for example here in French, you'll discover that the famous sample images from windows have their filenames localized.
That does make sense after all.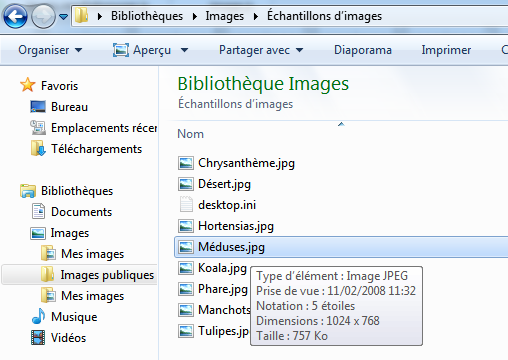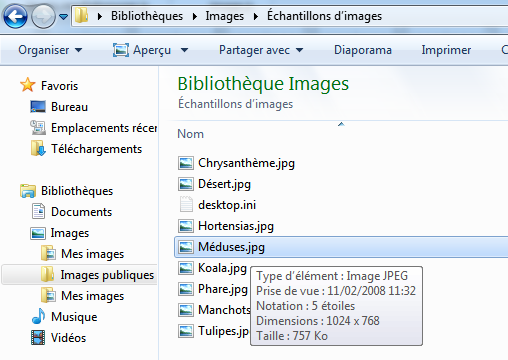 Except that if like me you want to test the upload function (HTML or flash) of a website, you'll discover that actually this is just an illusion and you'll see their real names.
For example in gmail (drag and drop or standard upload) :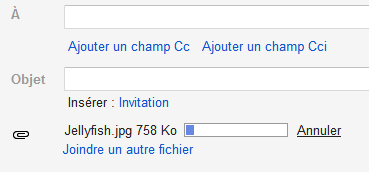 That simply means that explorer is lying to you and translates on the fly the filenames when it displays the list to you ! On already knew that some special directories related to the users are localized (such as Sample Pictures) but even all the files inside them. So if you copy them to another location (desktop, usb key, their names will change). If you look at the properties of the file the directory is not translated but the filename is still localized.
For your own good !
The same directory as above when you look with DOS command :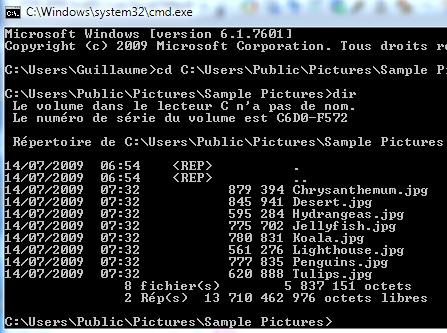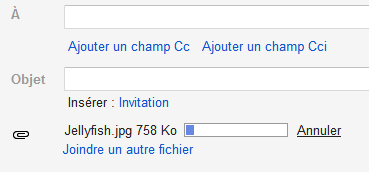 L'explorateur de Windows Seven traduit automatiquement les noms de fichiers à la volée !
(dans certaines zones uniquement)
Si vous allez avec votre explorateur de fichier dans les échantillons d'image de votre version de windows seven, vous découvrirez les biens connues images fournies avec windows.
Dans la version française (ci-dessous) on remarque que les noms des fichiers ont été traduits. Ce qui parait logique pour une version française.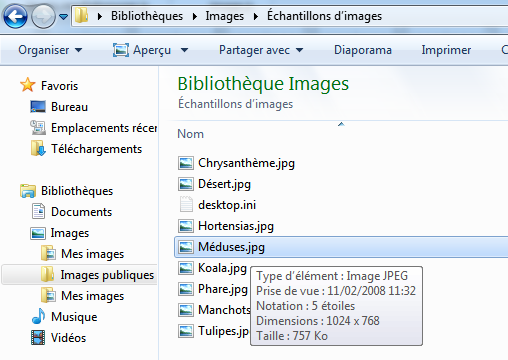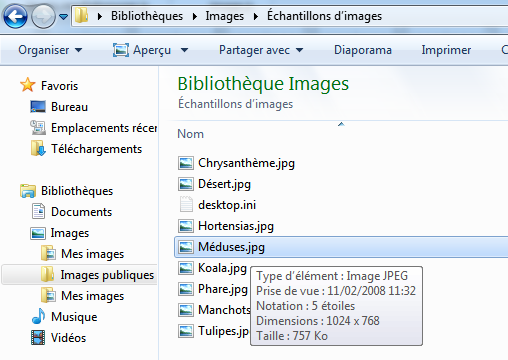 Sauf que si vous vous amusez comme moi à tester une fonctionnalité d'upload (html ou flash) d'un site web alors vous verrez que l'explorateur vous ment et le vrai nom du fichier.
Par exemple dans gmail (glisser/déposer ou upload standard) :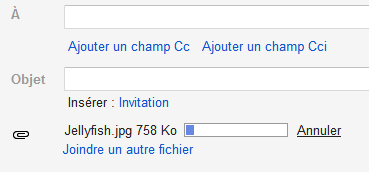 Cela veut simplement dire que votre explorateur de fichier vous ment et traduit à la volée dans son affichage... On savait déjà que les noms de répertoires un peu spéciaux comme "Echantillons d'images" justement était localisés, mais même les fichiers dans ceux-ci. Si vosu les copiez ailleurs (bureau, clef usb) alors le nom des fichiers va automatiquement être modifié... Même si vous regardez les propriétés du fichier, son répertoire sera "réel" mais son nom sera toujours une illusion.
Pour votre propre bien !
Note: si vous allez voir ses fichiers avec une commande DOS toutes les illusions se dissiperont.
Le même répertoire que ci-dessus vu par DOS :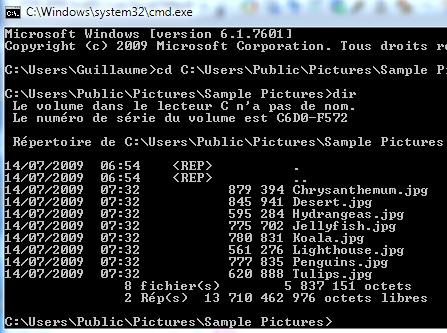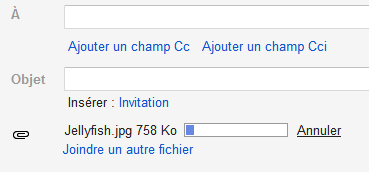 Post a Comment
Comments have been deactivated thanx to screwers.