Drawings on pavement, is this real ?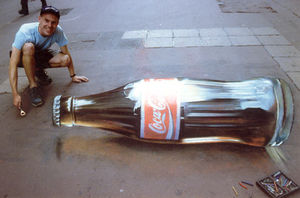 Julian Beever

If you like really nice drawings, trompe l'oeil, and ... headaches, you'll love this guy.
A must
see
.
Impressionants dessins a la craie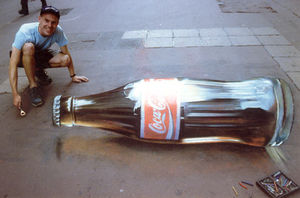 Julian Beever

Si vous aimez les belles réalisations, le trompe l'oeil ... voire les maux de tête, ce gars est fait pour vous.
Tous simplement fantastique !
Son site
officiel
.
Mais certaines photos sont
mieux ici
.
Vous pouvez aussi voir
comment il fait
.


Welcome to this little blog.
I'm quite proud to launch this little new blog. Since the beginning of Internet I was quite tempted to rule a "I-make-my-own-news" website or blog as we call them nowadays but never really crossed the line. Another site (like this one) is not very far but nothing like a real blog.

So let's try it. Here it is... with a little late. See here why.
You can find some pieces of information about this blog in the menu above or here and there.
Note: this blog is rather new so expect some bugs...

Bienvenue sur ce petit blog
Voila, il aura fallu du temps mais je me suis enfin(?) attelé a la publication d'un blog. J'ai toujours été tenté de le faire depuis que le monde est monde (ok depuis qu'internet est internet, et... oui il y a une différence !) mais je ne l'avais jamais réellement fait. Même si parfois un site comme
celui ci
n'est pas si loin dans le concept.
Alors nous y voici, avec un peu de retard. Voir
ici
pourquoi.
Vous pouvez trouver d'autres informations à propos de ce blog
ici
et
là
.
Note: vu que ce blog vient de naître, il y aura certainement des bugs...